Garages are just too small. Or that's the way it seemed. Modern houses are built with integral garages just wide enough for the average family car and only fractions longer. This left me with a bit of a problem- how to fit both the bike and the car into the garage in order to keep both under cover.
Another problem- my K75S weighs 230kg, and yet is still a lightweight compared some bikes with more fairing and more engine. Manoeuvring in a tight space is a risky job which risks an unscheduled tour of casualty. The search for an alternative began.
I had seen references in The Journal regarding motorcycle turntables. Mike Fishwick reviewed one such in the June edition. However since the only space available in my garage would be either in front or behind the parked car, it stands to reason that there would be a space of half a rotational diameter left unused- with the result that the two would not fit. Ideally the bike would fit parallel to and right next to the far wall at the end of the garage.
After a discussion with Mike at the BMW CLUB stand at the bike show in November, I found exactly what I needed- a "Motor-Mover".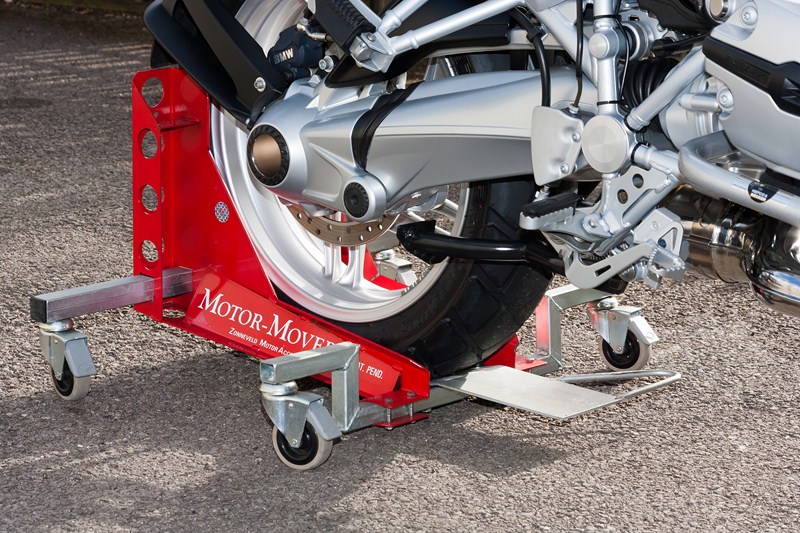 The device is simple in principle. The Motor-Mover is placed behind the rear wheel of the bike, and the brakes on the four castor wheels are locked. You then push the bike rearwards up the steel ramp until the rear wheel is caught centrally between two steel plate guides. Once the bike has been pushed far enough so that the wheel rests between the two axles, the large steel plates at the rear of the Motor-Mover sandwich the tyre. The bike is now free standing. Once the castor brakes have been released the bike can be pushed freely around in any direction, using the front wheel as a guide.

The bike can easily be turned through 180 degrees in the garage by pushing the front wheel into a side wall, using it as the centre of rotation, and pushing the bike's rear end around. Removing the device is simply a matter of locking the castors and rolling the bike forwards and out of the guides. The guide separation is adjustable to suit any tyre/wheel thickness.

Using the Motor-Mover is a little tricky at first, but soon becomes second nature and they are reckoned to be suitable for bikes up to 400kg. The only downside seems to be that there is very little ground clearance, so a relatively smooth ground surface is needed.

The Motor-Mover is constructed from part painted, part galvanised steel and costs £100. It is currently marketed by MPS (phone 0990 703030).

Powered by counter.bloke.com